I Love The Holidays.
If you grew up in my parent's house, you would love them too. They were magical. Literally.
You knew it was coming when Mom would pull out this 5" thick Sears catalog, hand you the magic marker, and tell you to circle "whatever." I look back and I know what she was doing. She was handing out busy work. Hey, I get it. Three kids... busy work means sanity and it's a method I subscribe to for my three. If they enjoy the work and devour it, even better.
The tree would go up. We'd "help" Dad.
Ornament magic - looking through those tchotchkys you haven't seen since last year's magical season. I was always eagerly awaiting the silver bell that would play music and 'hinged Santa' who was held together with brads so that you could pull the string on his head making his arms and legs flip upward as if to say "Hooray! It's Christmas and I'm-a-coming!"
The food. Oh man! The food. Grandma Wolf = peppernuts (pfefferneuse cookies) and noodles. Grandma Lemons = rice and broccoli casserole. Mom = Cherry cheese pie and bierocks. Yeah. The food...
Ah....
The lights. Dad would climb the choppy modern roof to line the edges with clear lights that would look BEAUTIFUL. I don't think I will ever be able to have anything hanging on my eaves but clear lights. They glimmered and glistened and I know it must've been a pain. But I stood in the grass (sometimes the snow) and watched proudly as if our house was announcing to the world that we were part of the Christmas Club.
Sometimes the trees were lit, and sometimes the sidewalk was lined with lighted paper lunch sack things. Whatever. Santa knew our house. It sparkled. Couldn't miss it.
Dad played piano and the rest of us sang.
We always left cookies for Santa.
Christmas Eve meant candlelight church service, pretty Christmas dresses, and curled hair.
Christmas morning meant coming downstairs in your Christmas night gown to see what surprises were under the tree and in your stocking. It meant seeing how long you could stay in those jammies before you were shooed upstairs to dress for the grandparents and Great Aunt Marian & Great Uncle Gregg who would be coming over for Christmas dinner (which actually began around lunchtime with beers and laughs and lots of attention spilled onto us kids - which of course we RELISHED in!)
So when I look back on Christmas as a child, it's covered in glitter. It probably always will be. And I want that for my kids.
So I try, but it's never quite the same. It's still lovely. Enjoyable.
But there's always that period after Christmas and New Year where you just gotta let the steam roll off. The tree stays up a week longer than you planned on and the red-green plastic storage containers take up residence in your hall for a good two weeks. It usually takes tripping over them before you find the motivation to take them back to the attic.
But - nonetheless. I love you, Christmas and in one year I'm gonna be ready to see you again.
Our tree is gone. The ornaments have left the building.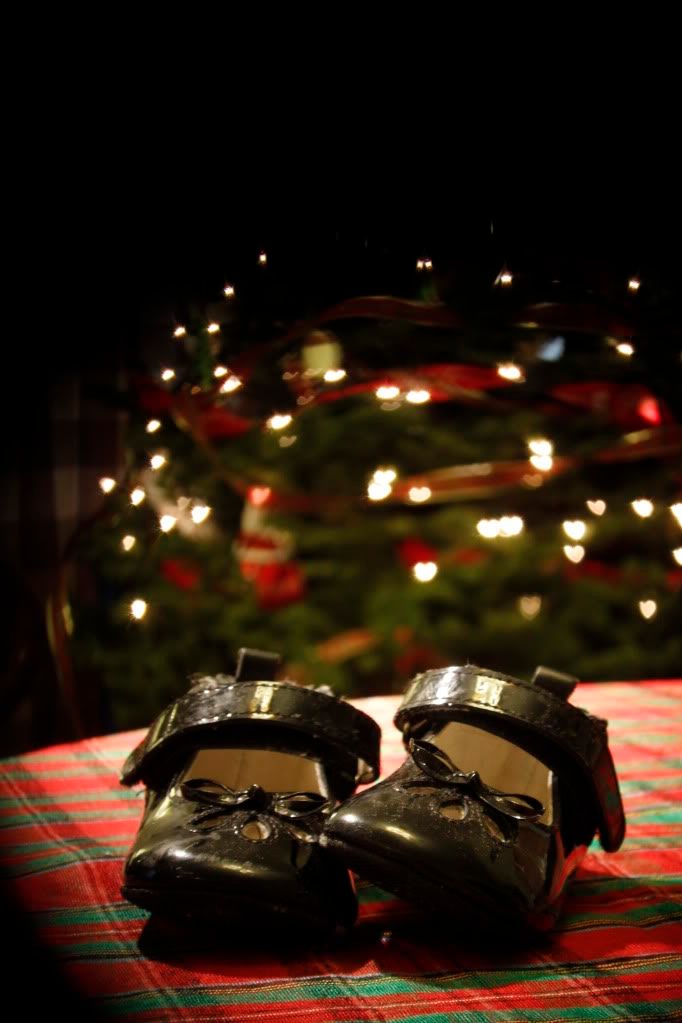 Gianna's Christmas Shoes 2010
(Thanks to my Mom - who understands about Christmas magic)
That's okay. Got something else going on that puts a spring in my step. Stay tuned...
details are coming and no one else knows!
MuahHahHAhahaha (evil laughter)